Upcoming Activities for Oregon Nikkei Endowment
Current Exhibit
A'misa Chiu: mirror images/mere images
(re)remembering the generations through family photographs
Open to the public through February 10, 2019
A'misa Chiu presents watercolor paintings based on photos of her family. There will be two images per generation (issei, nisei, sansei, yonsei, gosei).

Day of Remembrance 2019
Sunday, February 24, 2pm
at PSU Hoffmann Hall (1833 SW 11th Ave, Portland)
Free and open to the public


Upcoming Exhibit
Lynn Yarne:
Stories from Nihonmachi
On display March 7 - May 5, 2019
First Thursday – March 7, 3-6pm
Free and open to the public

Special Reception for Friends of Oregon Nikkei Endowment
Saturday, March 9, 3:30-5:30pm
RSVP by March 6th
Portland artist and educator Lynn Yarne explores the history and culture of Portland's Japantown/Chinatown district through the stories of nine elders in her multi-media exhibit, Stories from Nihonmachi.

7th Annual Cherry Blossom Bazaar
A Rummage Sale of Japanese Treasures
Saturday & Sunday, March 30 & 31, 2019, 10am-4pm
139 NW 2nd Avenue, Portland
Shop 'til you drop! This is a unique sale of Japanese collectibles, artwork, dishware, furniture, and more. Items start as low as 25 cents! Something for every age, taste, and budget! All proceeds benefit Oregon Nikkei Endowment.
Special Preview Night to Benefit Oregon Nikkei Endowment
Friday, March 29, 6-8pm
Early Shoppers Admission: $50 (general public), $25 (Friends of O.N.E.)
RSVP required
Join us for this exclusive opportunity to shop for one-of-a-kind Japanese treasures before the general public! Food and drink is included in admission.
Phone: 503-224-1458

Time for spring cleaning! Donate your Japanese items for the Cherry Blossom Bazaar! The dates to donate to this year's rummage sale are March 13-27 (call ahead to schedule a dropoff time). Call Oregon Nikkei Endowment at 503-224-1458 to arrange for donation dropoff or to sign up to volunteer.

Minidoka Center Field Project
at the Minidoka National Historic Site
The goal of the Center Field Project is to re-construct one of the baseball fields at Minidoka and its supporting structures, including scoreboard, backstop, player benches, and exhibit panels.
Baseball played a key role in sustaining the Japanese Americans who were incarcerated at the Minidoka War Relocation Center from 1942-45. Many camp residents—youth and adults, male and female—played baseball or softball on one of the many fields throughout the camp.
Field-In-A-Day is based on the 1952 Farm-In-A-Day event on property that was part of the historic Minidoka site. Approximately 1500 volunteers built a two bedroom home, dug irrigation canals, built corrals, and planted crops — all in a single day. On Saturday, May 28th, individuals and groups joined Friends of Minidoka and park staff in rebuilding one of the baseball fields that were interspersed among the 44 residential blocks.
Support the Minidoka Center Field Project by volunteering for Field-In-A-Day, making a donation, or purchasing a special commemorative baseball (a portion of sales supports the Center Field Project). The baseball ($10, case costs extra) is available for purchase at the Oregon Nikkei Legacy Center. Please visit www.nps.gov for more information.

Resources & Services
Check out our Resources page to learn more about the Oregon Nikkei Legacy Center's programs, which provide tangible reminders of the richness and vitality that ethnic minorities can bring to societies that hold sacred the rights of its citizens and regard as a blessing the diversity of its people.

---
Other Community Events
Please visit Discover Nikkei for more information about upcoming events in the area and around the world:
Open Signal, Portland Community Media Center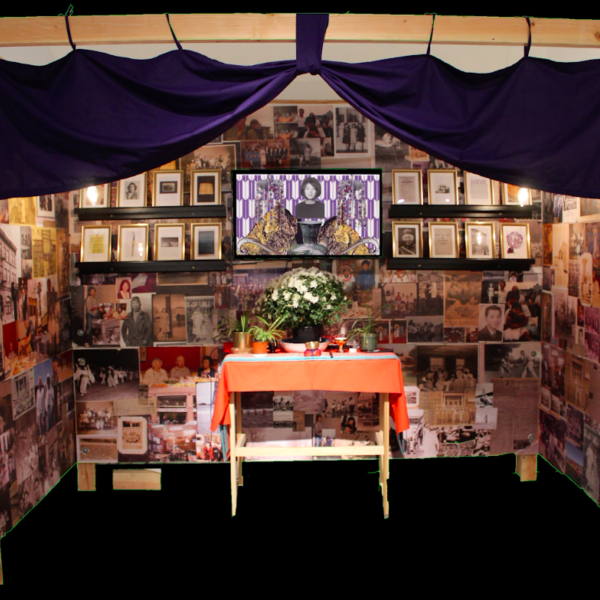 Altar by Lynn Yarne
On display January 16 - March 1, 2019
at Open Signal (2766 NE Martin Luther King Jr Blvd, Portland)
Artist Lynn Yarne explores the history and culture of Portland's Chinatown/Japantown district through the stories of nine elders.
Altar collects audio recordings, images, and animations to tell the stories of nine elders from Portland's Chinatown/Japantown district: Bertha Saiget, Gloria Wong, Jean Matsumoto, George Nakata, Fred Wong, Carol Lee, Franklin Qwan, Gary Lee and Sharon Gattis. Visit www.opensignalpdx.org to learn more.

Portland Chinatown Museum

Beyond the Gate: A Tale of Portland's Historic Chinatowns
Grand Opening: December 15, 2018
at Portland Chinatown Museum (127 NW 3rd Avenue, Portland)
Beyond the Gate was originally created as a temporary exhibit for the Oregon Historical Society by Dr. Jacqueline Peterson-Loomis with the help of Carey Wong, Jennifer Fang, and the Portland Chinatown History Foundation. This expanded version of Beyond the Gate is the new permanent exhibition for the Portland Chinatown Museum. Visit www.portlandchinatownmuseum.org to learn more.

Lan Su Chinese Garden

Chinese Fun and Games
March 1-31, 2019
at Lan Su Chinese Garden (239 NW Everett Street, Portland)
Throughout Chinese history, gardens have been places of recreation. A Chinese family who owned a garden similar to Lan Su Garden would enjoy many games and forms of entertainment. This March, learn how to play Wei Chi (Go), mahjong, and other traditional Chinese games! Visit www.lansugarden.org to learn more.

Oregon Jewish Museum and Center for Holocaust Education

The Last Journey of the Jews of Lodz
October 9, 2018 – February 24, 2019
at OJMCHE (724 NW Davis Street, Portland)
Joint exhibit with the Portland Art Museum. Together the two exhibitions will offer an extraordinarily rare glimpse of life inside the Lodz Ghetto through the lens of Polish Jewish photojournalist Henryk Ross (1910–1991). The Nazis consolidated the area's Jewish population—more than 160,000 people—into a poor industrial section of Lodz, Poland, making the Lodz Ghetto second in population only to the Warsaw Ghetto in German-occupied Europe. Henryk Ross, confined to the ghetto in 1940, was put to work by the Nazi regime as a bureaucratic photographer. He took official photographs for Jewish identification cards, as well as images used as propaganda. Unofficially—and at great risk—Ross documented the brutal realities of life under Nazi rule, culminating in the deportation of thousands to death camps at Chelmno and Auschwitz. Visit www.ojmche.org to learn more.

Architectural Heritage Center

The Artistic and Eclectic Will Martin
On display through July 27, 2019
at the Architectural Heritage Center

This original, comprehensive exhibition about the Portland and Oregon architect Will Martin (1930-1985), best known as the designer of Pioneer Courthouse Square, captures the full range of Martin's creative work as an architect, artist, and imaginative thinker. This exhibition demonstrates the vibrant fusion between art and architecture as it played out in Martin's built and unbuilt work, from his earliest projects in the late 1950s, his modernist suburban work, his playful and experimental designs for private residences, to his forays into postmodernism prior to his untimely death in 1985. Visit visitahc.org to learn more.

---
Past events:
Mochitsuki 2019
The Year of the Boar
Sunday, January 27, 11am-4pm
at PSU Viking Pavilion (930 SW Hall Street, Portland)
mochipdx.org
Enjoy free mochi samples, demonstrations, and hands-on activities for all ages including: mochi pounding, mochi making, ikebana, origami, games, calligraphy, and much more! Please visit mochipdx.org for more information.

Osechi Ryori

Winter fundraiser for Oregon Nikkei Endowment
Cost: $145 (or $115 if you provide your own jubako box)
Enjoy traditional Japanese New Year's food (as well as items from the Pacific Northwest) prepared by our Nikkei community cooks, displayed in a three-tiered box (jubako), while supporting the Oregon Nikkei Endowment! The traditional foods include nishime, kazunoko, makizushi, chirashi, kimpira gobo, and more...
The cost is $145 for the entire osechi ryori (or $115 if you provide your own jubako—please check with us to make sure your jubako is compatible), $60 of which is tax-deductible. Deadline to order and to drop off your jubako is Friday, December 21st.
Holiday Museum Store
Open through December 23, 2018
Tuesday-Saturday 11am-6pm; Sunday noon-4pm
at the Oregon Nikkei Legacy Center
Shop and support Oregon Nikkei Endowment at our holiday gift shop! This holiday season, Oregon Nikkei Endowment's gift shop, Omiyage, has been expanded at the Oregon Nikkei Legacy Center. Celebrate the tradition of gift giving and choose from Asian inspired gifts and crafts created by local artisans and designers. Omiyage features jewelry, cards, origami ornaments, fashion and home accessories, arts and crafts, Anime-inspired merchandise, books, and a selection of curated vintage items.