Current Exhibits
Oregon Nikkei: Reflections of an American Community
This exhibit celebrates the lives and contributions of Oregon's Nikkei community, and evokes memories of shared experiences - from early settlement through the unique challenges of World War II and into the 21st century. Please join us at the Legacy Center for a unique and educational glimpse of Japanese American life in Oregon.

Nisei Trilogy
Nisei Trilogy is a three print suite dedicated to the "Nisei," second generation Japanese Americans. Despite being Americans by birthright, the Nisei were denied their constitutional rights and placed in concentration camps for the duration of World War II.
The images were created by artist Roger Shimomura. The text was provided by Larry Matsuda. Both artist and poet were incarcerated in Camp Minidoka, Idaho, during the war and were later raised and educated in Seattle.
with:
Collections Up Close | 2018
Beginning in 2018, the Oregon Nikkei Legacy Center's gallery has become an archival processing center to inventory, catalog, and photograph Oregon Nikkei Endowment's permanent collection. This year is an opportunity to observe collections staff and volunteers at work during the collections process, as well as to view never-before-seen artifacts from our collection that will be displayed in small exhibitions throughout the year.

Baseball and Bowling: Sports Memorabilia from Minidoka and Post-WWII Portland
February 25 – April 8, 2018
Arts and Crafts Made in the Japanese American Incarceration Camps
April 12 – June 10, 2018
A Soldier's Story: The Photo Album of Yukimori Okimoto Who Served during WWII with the 522nd Field Artillery, Liberators of the Subcamps of Dachau
June 14 – August 5, 2018
Iwao Oyama
Oshu Nippo: Artifacts from Portland's Japanese Language Newspaper, 1909-1951
August 10 – November 4, 2018
First Thursday – September 6, 3-6pm
Free and open to the public
For early Japanese immigrants to Oregon, a Japanese language newspaper was their only contact with the outside world. In 1906 Shinsaburo Ban, an entrepreneur in Portland, started a private newspaper called The Oregon Shimpo (Oregon News). Japanese men working on farms and railroads in Oregon relied on the newspaper to provide information and a connection to Japanese culture far from populated areas.
In 1909, the newspaper was taken over by Toyoji Abe, who changed the name to Oshu Nippo (The Oregon Daily News). Six years later Iwao Oyama, a newcomer to Oregon, became the editor. Oyama was a journalism major who had graduated from Waseda University in Tokyo before coming to America. Iwao Oyama was the primary writer for the paper and eventually edited the Oshu Nippo for thirty-four years.
The publishing house of Oshu Nippo was at 131 NW 2nd Avenue in Portland, on the street level of the Merchant Hotel (the same building where the Oregon Nikkei Legacy Center is currently located).
With support from the Oregon Heritage Commission, Oregon Nikkei Endowment is translating ten Special Issues of the Oshu Nippo. Oregon Nikkei Endowment is grateful for support from the Portland law firm Lane Powell, Yoko Gulde, Colin Takeo, and the over sixty volunteers involved in this translation project, including translators from our sister city, Sapporo, Japan.
Upcoming exhibit:
Contested Histories:
Art & Artifacts from the Allen Hendershott Eaton Collection
November 1 – 4, 2018
First Thursday – November 1, 11am-7pm
Free and open to the public

Workshops: Thursday, November 1st at 5pm & Sunday, November 4th at noon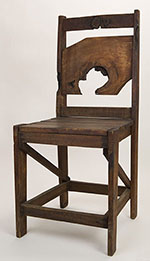 Allen Hendershott Eaton's historic 1952 book, Beauty Behind Barbed Wire: The Arts of the Japanese in Our War Relocation Camps, explored arts and crafts created by Japanese Americans while wrongfully incarcerated in the World War II American concentration camps. In the course of conducting research for the book, Eaton amassed a significant personal collection of artifacts.
After many years of lying forgotten in storage, the collection was put up for auction. An outcry arose from the Japanese American community, who rallied successfully to stop the insensitive sale of these important artifacts of Japanese American history. Ultimately, the collection was transferred to the Japanese American National Museum for safekeeping.
The Contested Histories display includes physical or digital representations of objects in the Eaton collection: photographs, sculptures, artwork, and other items handmade by Japanese Americans. In addition to providing an opportunity to see the collection that inspired such strong emotions and decisive actions, Contested Histories is intended to gather as much information about each object so that the efforts to preserve and catalog the collection can be as complete as possible. People are encouraged to share information they know or remember about the objects, including who or what is depicted in the many photos.
Support for the conservation and display of the Eaton Collection was provided by the National Park Service's Japanese American Confinement Sites Grant Program. Additional support was provided by George and Brad Takei, the Earle K. and Katherine F. (Muto) Moore Foundation, and Richard Sakai.
For more information, visit www.janm.org.
---
Museum hours:
Tuesday - Saturday 11 am to 3 pm, Sundays noon to 3 pm. Admission is $5 ($3 for seniors/students, free for Friends of Oregon Nikkei Endowment).
Oregon Nikkei Legacy Center
121 NW 2nd Avenue
Portland, OR 97209 Directions

Phone: 503-224-1458



PCC Student Photos
We have posted on our Flickr page photos by Portland Community College photography students. Inspired by work of Motoya Nakamura and his recent Sakura Sakura exhibition, these photographs are also currently on display in the windows of the Oregon Nikkei Legacy Center.
During the month of May, the students took dozens of pictures of our Old Town/Chinatown neighborhood, which was once the heart of Portland's historic Japantown. They were guided through these streets around the Oregon Nikkei Legacy Center by their class instructor Motoya Nakamura.
Joining the students were members of the Portland Photographic Society. They later juried the students' work and selected their very best photos which we are now able to share with you!
Which photographs do YOU like the most? Please share in the comments on Flickr!
---
Online Exhibits
Tour our permanent exhibit
Reflections of an American Community

Japantown PDX

iPhone Walking Tour of Historic Old Town
Free
Explore Portland's historic Japantown with this walking tour of the Old Town/Chinatown neighborhood. The city's vibrant pre-WWII Japanese American community is archived in over 125 photographs and audio clips. Watch historic Japantown street life reappear in "then and now" photographic dissolves.
Japantown PDX documents the vitality of this once-thriving Nihonmachi as well as its sudden disappearance in the spring of 1942 when all people of Japanese ancestry were removed from the West Coast. In addition to telling Portland's Japantown story, this app explores the remarkably diverse Old Town neighborhood in tour stops that honor its African American, Chinese and LGBT roots. Open the iPhone App Store and search for "Japantown" or visit the Apple iTunes store for more information.

Discover Nikkei
Oregon Nikkei Endowment is partnering with Discover Nikkei, one of the world's largest sources for Nikkei-related databases, history and culture, to create online collections of photographs and history relating to Oregon's Japanese American history.
| | |
| --- | --- |
| | |
| | |
| | |
| | |